The recent acquisition by Amazon of Kiva Systems has been written about by many.  Much has been said about Amazon's willingness to pay as much as it did and how that speaks to acquiring the patents as much as Kiva's business.  I think these are all valid points but I think the real key issue is that Amazon has raised the ante in the distribution efficiency arms race; it is not just self-defense but a strategic thrust.
Unlike many retailers, Amazon is well aware that its business hinges on two key points; one is having a broad based catalog of things to sell – this isn't just about books and hasn't been for some time, two is knowing that once someone buys something they really want to get it and get it yesterday.  Amazon recognizes that doing retailing profitably in a fashion that thrills your customers requires that you do it efficiently and the distribution arm of their business is all about fulfilling orders cost effectively and as a service differentiator over your competition (see Tom Andel's post on the Read, React, and Respond blog over at Material Handling and Logistics).
Enter Kiva Systems.  Their solution is about operational order fulfillment efficiency in the warehouse/distribution center; nothing more and nothing less.  They are a great fit for the retail e-commerce distribution business that moves a ton of eaches, not just full pallets and cases.  Full pallets in, parcels filled with eaches out.  Amazon anyone?
"Kiva robot delivering product to pick station"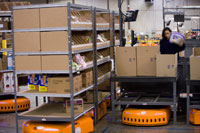 Additionally, Kiva Systems attacked the operational dichotomy of picking efficiency; is it better to bring the picker to the product or the product to the picker.  Classic WMS solutions are really good at bringing the picker to the product efficiently (order waves, pick waves, packing plan, packing stations, etc.).  Fixed automation has been good at bringing the product to the picker (A-frame pick systems, pick to light, put to light, ASRS, carousels, carousels combined with pick and put to light, etc.).  WMS also retained more flexibility than fixed automation.  You could always, up to a point, alter your task management process and throw more workers at an order or pick wave – meanwhile, fixed automation devices are only as flexible as the steel and concrete they are made from.  Kiva offers an intriguing blend of the WMS flexibility with the fixed automation picking efficiency.
Enter Amazon.  Amazon acquired two customers of Kiva (Zappos.com and Quidsi, Inc.) and also became a customer themselves.  This allowed them to try out the technology and assess its true benefit.
Apply these facts to Amazon's determination to grow their business, recognition of the importance of distribution efficiency for themselves and their partners (they also function as a 3PL), and the difficulty of doing all this effectively, (as Sanjay Sarma, chairman of the EPCglobal Board of Governors and one of the founders of the MIT Auto-ID Center was recently quoted by John Johnson of RFID 24-7 in his blog, "The point is that logistics is a place where we leak money. We absolutely leak money…"), you begin to see the same point I do.  Buying this technology solution company and gaining control of Kiva's patents and other intellectual property enables Amazon's success at their own goals.  Further, by having this control, it allows Amazon to control which of their "friends" can reap similar benefits and forces the competitors to seek other means to trump this advantage.
It is truly a new stage in the arms race of distribution effectiveness between the very large e-retailers and distributors.